Are you ready to embark on a culinary journey this November? The Birchwood has some delectable surprises in store for all the foodies out there. From mouthwatering burgers to a Thanksgiving feast that will have you counting your blessings, this month at The Birchwood promises to be a delight.
Tampa Bay Burger Week
Let's kick things off with one of our favorite weeks of the year: Tampa Bay Burger Week. From now until November 12th, Birchwood Canopy and Birch & Vine are participating in this burger extravaganza. But it's not just about savoring mouthwatering burgers; it's also about giving back. A portion of the proceeds from these limited-time burgers goes towards supporting Feeding Tampa Bay, making each bite taste all the better.
Birchwood Canopy's Black Peppercorn and Bourbon Burger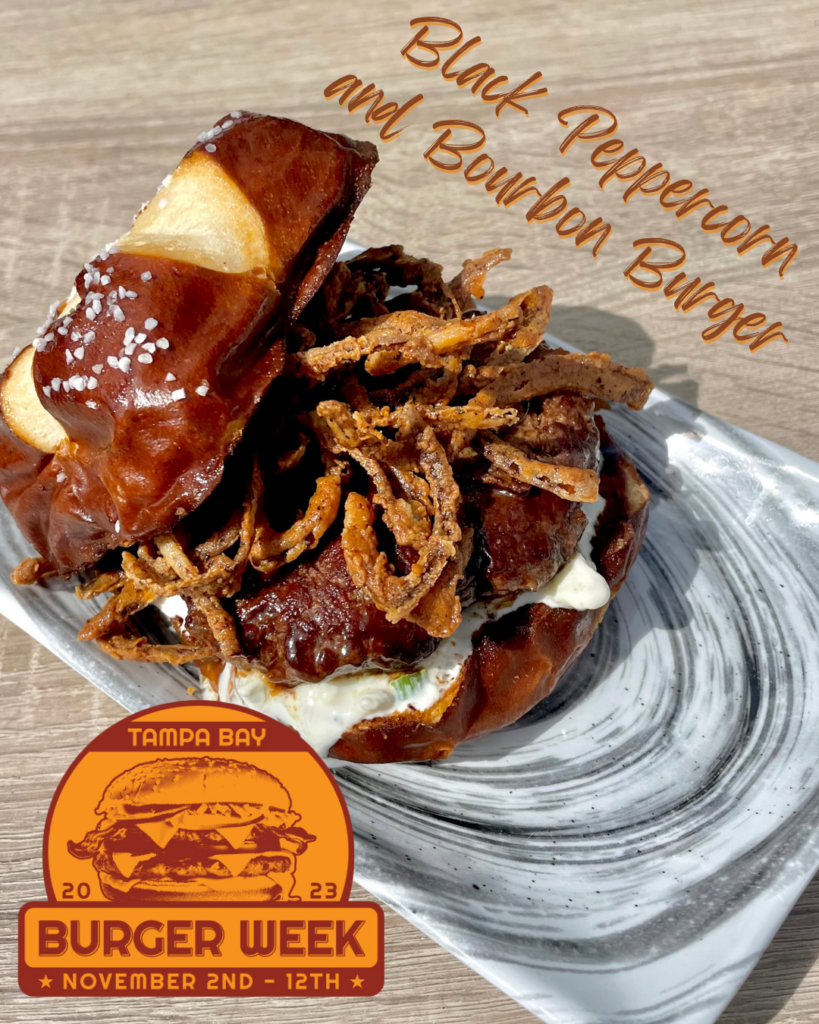 If you're a fan of classic, savory flavors, you'll love Birchwood Canopy's Black Peppercorn and Bourbon Burger. This creation features a 6oz all-beef patty cooked to perfection and topped with crispy onion strings, gorgonzola cream, cracked peppercorn, and a luscious bourbon glaze, all sandwiched between a pretzel bun. Each bite is a harmonious blend of richness and a hint of smokiness from the bourbon glaze.
Birch & Vine's Loaded Potato Smash Burger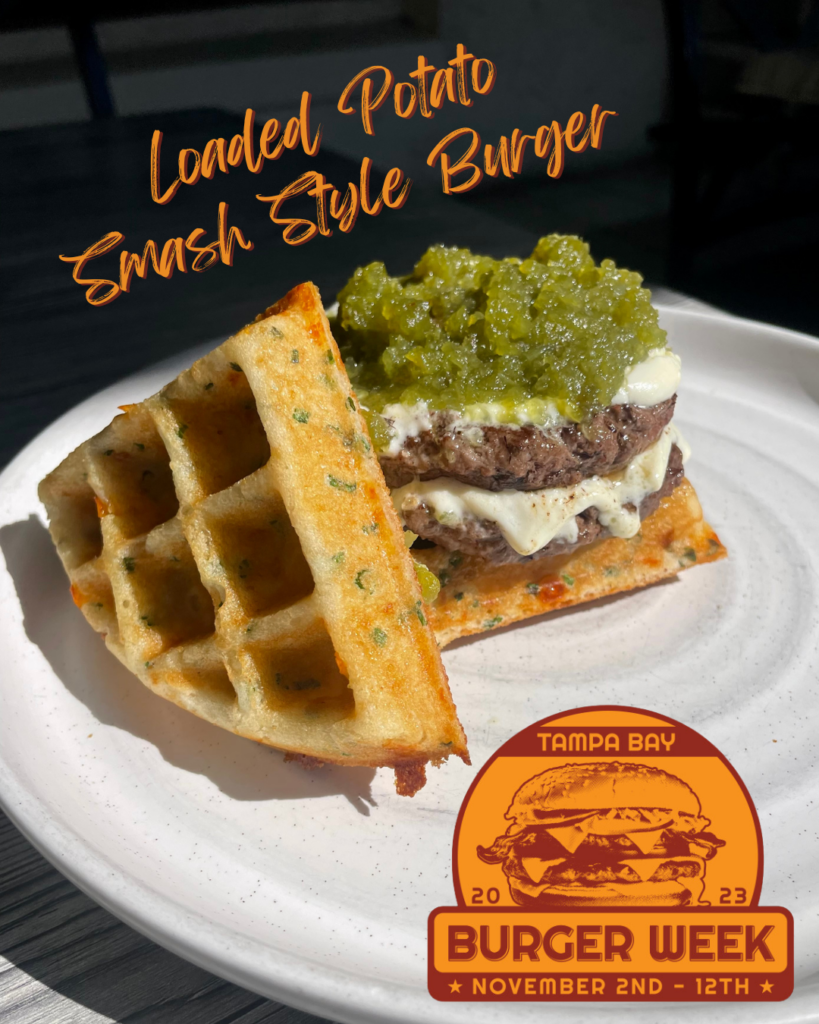 Are you looking for a burger with a twist? Birch & Vine's Loaded Potato Smash Burger is a must-try. This burger takes the classic idea of a smash-style burger to a new level. It's a bacon-infused smash-style burger that is paired with a potato and cheddar, all held together on a chive waffle bun. To add a touch of elegance, it's garnished with airy cream cheese and a jalapeno marmalade that gives it a delightful kick.
Thanksgiving At Birch & Vine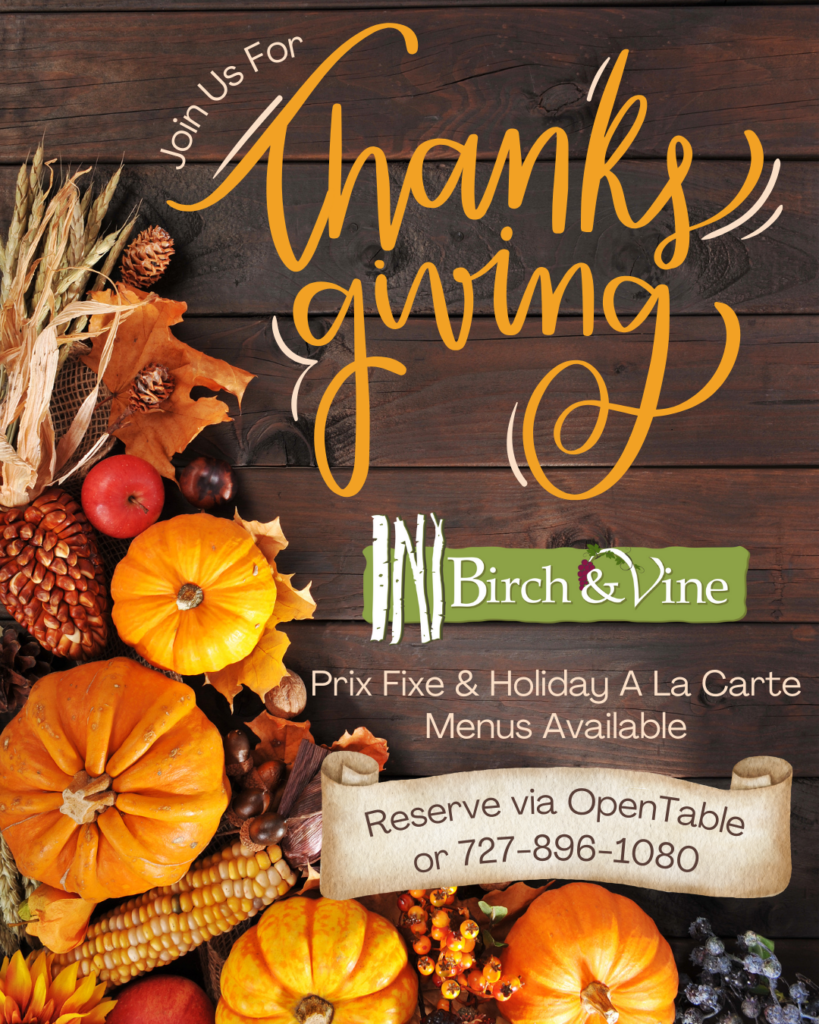 As we approach the holiday season, Birch & Vine is ready to serve you a Thanksgiving feast that you won't soon forget. The Prix Fixe Menu at just $70 is a wonderful way to celebrate the season of gratitude. This menu includes:
Choice of Starter: With a choice between Cauliflower Bisque & Bleu or Burrata Apricot Salad, your meal will begin on a high note. 
Turkey Duo: The star of the show, featuring juniper-fennel butter roasted turkey duo, French whipped mash, roasted baby carrots, brown butter, cranberry & caper stuffing, apricot compote, smoked maple gravy, and crispy shallots. 
Pumpkin Delight: For dessert, a traditional Holiday delight awaits, complete with a flaky pie crust and a dollop of whipped topping.
If you prefer a more customized Thanksgiving experience, check out the full a la carte menu here under "More Menus". Enjoy Thanksgiving this year without all the cooking and cleaning. Make your reservations today!
Wishbone Wednesday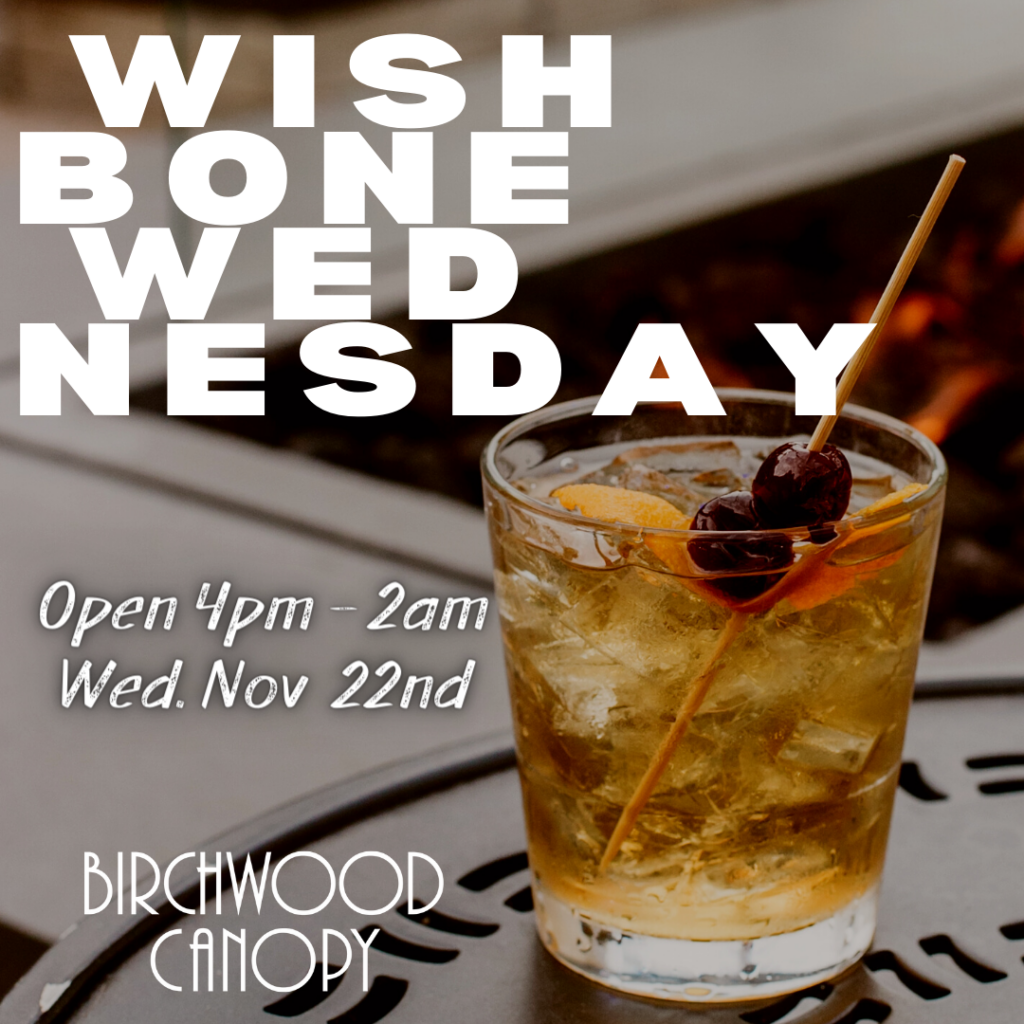 Before November bids us farewell, make sure to save the date for Wishbone Wednesday. On Wednesday, November 22nd, Birchwood Canopy will be open from 4 PM to 2 AM. So, gather your friends, head to Birchwood Canopy, and make the most of this pre-Thanksgiving celebration.
The Birchwood has something for everyone this November. Whether you're in the mood for a delicious burger that supports a charitable cause, a Thanksgiving feast, or a rooftop experience with breathtaking views, The Birchwood has it all. So, come hungry and leave satisfied, because foodie fun at The Birchwood is waiting for you this November.