If breakfast is the day's most important meal, then we believe Brunch is the most important meal of the week. At our onsite restaurant, Birch and Vine, we take Brunch to a whole new level with Brunch Bubbles at the Birch. Get your squad together for a toast, bring a date for a romantic start to the day, or just enjoy a delicious meal with your family. Starting at 10:00 AM and extending all the way to 4:00 PM we have the most delicious eats and dynamite mimosa specials in town!
THE SPECIAL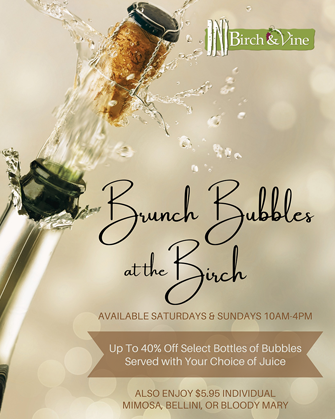 Our weekend special means more bubbles for your buck, more celebratory toasts for your friend's new job opportunity, your mom's new garden, or your dad's snook he caught in the Bay!
Some of our Favorite Brunch Eats
Cheesecake French Toast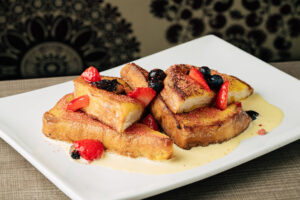 At Birch and Vine, we believe it's never too early for a sweet delight. Our Cheesecake French Toast is guaranteed to satisfy your sweet tooth with thick cut brioche dressed in whipped cheesecake, topped with fresh macerated berries and finally finished with a sprinkle of strawberry spice. 
A combination sure to bring you straight to heaven.
Chicken & Waffle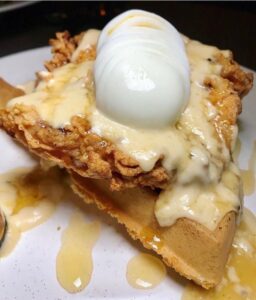 Photo credit: @craveapp (Instagram)
Fried chicken and waffles is a Southern staple, and we pay homage with a Birchwood twist. Our perfectly seasoned crispy fried chicken is delicately placed on a fluffy homemade waffle, smothered in savory Gouda Mornay and sweet honey, and finally topped with a sliced poached egg. It's the perfect sweet and savory bite that you can't stop eating 'till it's gone!
Creole Shrimp and Grits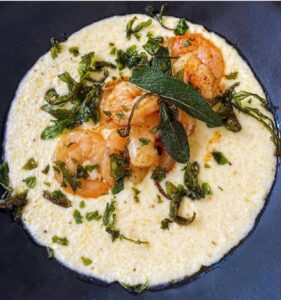 Photo credit: @ravenousdoll (Instagram)
We approach our shrimp and grits from the foundation up. Our grits are shipped in from Nora Mills, a granary dating back to 1876 in northern Georgia. Utilizing the original 1,500 pound french burr stones to grind down their grains, Nora Mills delivers on that perfect, old-fashioned texture. Top these cheesy grits with our plump chorizo spiced shrimp and you have the perfect savory brunch dish. Try it this weekend, you won't regret it!
Brunch rules. There's no other way to put it! Catch up with your friends this weekend over bubbles, enjoy a daytime date with your significant other, or bring the kiddos out for brunch and a walk around the pier! So many possibilities here at The Birchwood, we look forward to seeing you!