Today is International Chefs Day and we want to celebrate our amazing Chefs here at the Birchwood Family of Brands. We talked to just a few of our kitchen rock stars – read on to find out a little more about who they are, their culinary history, and get the inside scoop on their fave dishes on our menus!
Executive Chef of the Birchwood Family of Brands, Lee Aquino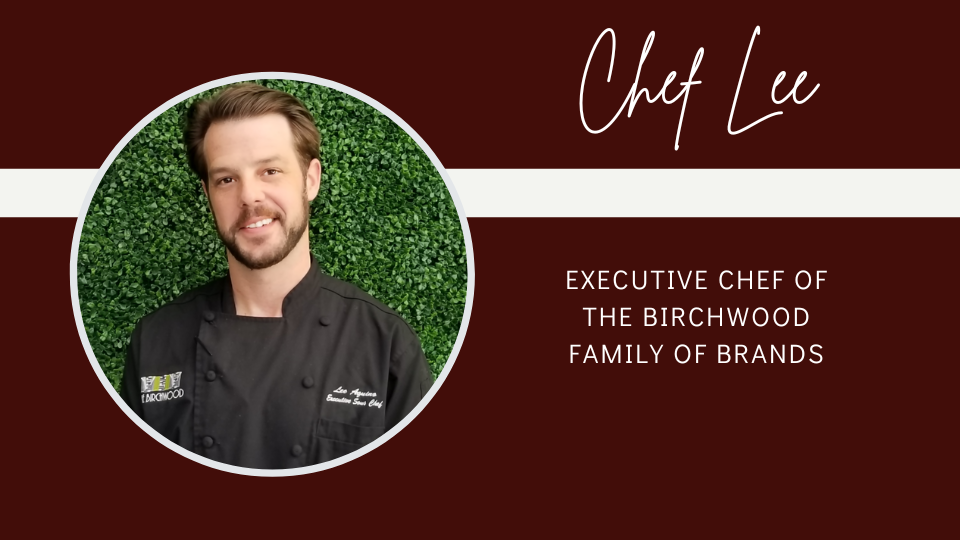 Chef Lee graduated from St. Augustine's First Coast Technical College and the national hub for the American Culinary Federation. Starting his career in the restaurant industry as a bartender, he decided to learn how to cook and fell in love. A chance conversation with the Birchwood owner Chuck Prather  landed him here, and he's been the Executive Chef for 10 years.
 When asked why he loves being a chef, he says "I love putting people around tables, putting teams together, finding the right situations, problem solving. All of those things are crucial to owning that, the title of 'Chef'."
What's his favorite item on the menu? With so many options to pick from across our Family of Brands, he says "Lantern Lane Brick Chicken – It is one of the simplest entrees on the dinner menu but it takes the most effort/time to manicure and produce it correctly.  For me it is slightly upscale but comforting.  Also I found a way to coincide this concept with our historic Lantern Lane at the Birchwood that was constructed with bricks."
Pastry Chef, Rocco LaPorte
Originally from Chicago, Chef Rocco grew up in a foodie family. "My mom's parents owned a bar that they converted into a restaurant in Chicago and I have lots of uncles and aunts who are either chefs or they own catering companies. So I was just really immersed in it from a young age", he said.
At 16, his first job at a bakery making cookies, brownies, and banana bread never felt like work, but he wasn't sure about baking as a career until later in life. After a year at The French Pastry School in Chicago, Chef Rocco moved to Tampa. Executive Chef Lee Aquino found him on LinkedIn, and brought him into the fold at the Birchwood Family. Chef Rocco is in charge of dreaming up the desserts at every property in the Birchwood Family of Brands, including the ice cream at Driftwood Cafe.
What's his favorite dessert he's created for our menus? He said, "My favorite dessert would have to be "What If Peanut Butter Was Actually Chocolate" offered in Birch & Vine. The flavors are rich and nostalgic. It pulls together notes from some of my favorite movie theatre snacks in an elevated balanced dessert."
Driftwood Cafe Manager, Chef Nate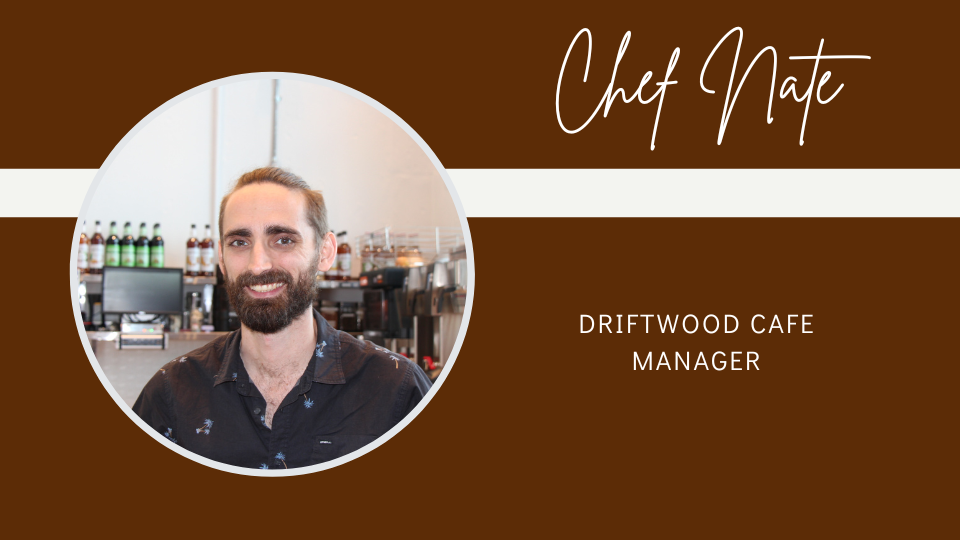 Chef Nate has been pursuing his culinary dreams since his teens! Attending culinary classes offered by his high school, he went on to get his certification at the American Culinary Federation. Describing his food style as "eclectic and simple", he especially enjoys Italian cheese and charcuterie.  "It's very simple, very focused. This is where it came from, the joy, the beauty of what you've got, what you did. It doesn't need to be built in anything. A great chef can take a bland piece of meat and make it into something amazing. That takes a lot of talent, knowledge, and time to do that. But it doesn't always need to be a big process to get there either," he said. 
He loves managing Driftwood Cafe  because, he says, "I love challenges. I want to build, I want to make something successful and to have other people see. It's a beautiful space. We have fantastic equipment, amazing coffee, a lot of energy and a lot of time invested here."
His favorite item on the Driftwood menu is "Vanilla Affogato – Its all the best flavors in house. 46 has a nice roasted chocolate, and a little smokiness. Paired with the rich, creamy, and smooth vanilla ice cream. My guilty pleasure around sunrise on the Pier."
Executive Sous Chef at Teak, Chef Troy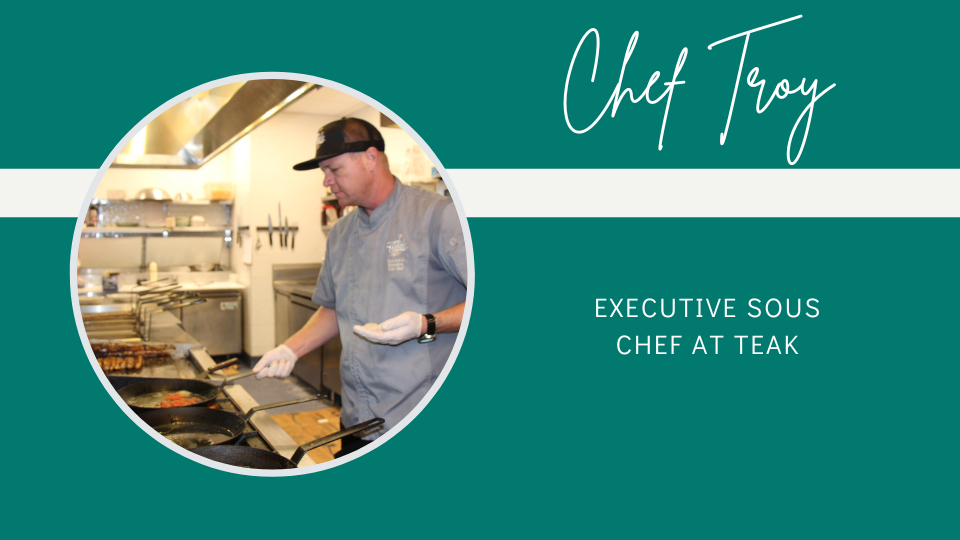 Chef Troy's love for the culinary arts began in his mother's kitchen. Working up through the culinary hierarchy in different restaurants, he eventually made his way to Sous Chef at Birch and Vine. Presented with the opportunity to be involved with the development of Teak at the newly redeveloped St. Pete Pier, he helped oversee everything being built, from the kitchen to the menu to the shelves on the walls.
Drawing from his family's recipes and his world travels, Chef Troy brings authentic flavors to every dish at Teak. His favorite dish on the menu is the grouper entree. "I love getting the perfect sear on such an elegant piece of fish.  Pairing it with that creamy risotto and a mandarin citrus sauce which takes so much love to make brings it all together.  Nothing screams Teak like a beautiful, flaky, and fresh portion of a local Black Grouper," he said. 
We're so grateful for the energy and expertise each of our amazing chefs brings to the table. Next time you visit one of our restaurants, we hope you enjoy knowing a little more about the people behind the delicious meal you're enjoying!