Welcome to our Birchwood Family of Brands! You know The Birchwood, the perfect stay for city play in Downtown St. Petersburg, but did you know we have sister properties on Beach Drive and the St. Pete Pier?
We are excited to show you the wide variety of experiences that we offer at our properties including a sommelier curated wine-wall, #Instaworthy rooftop bars, a boutique inn with historic roots and a sweet treat cafe. 
Birchwood Family of Brands Beach Drive Locations
 Join us for special occasions, brunch, lunch, dinner or a delicious cocktail! Located in the heart of DTSP, our family of brands on Beach Drive include the historic Birchwood Inn, the award-winning rooftop lounge, Birchwood Canopy, Birch & Vine, the premier restaurant in Downtown St. Pete, and the Grand Ballroom, the scenic destination for weddings and private events.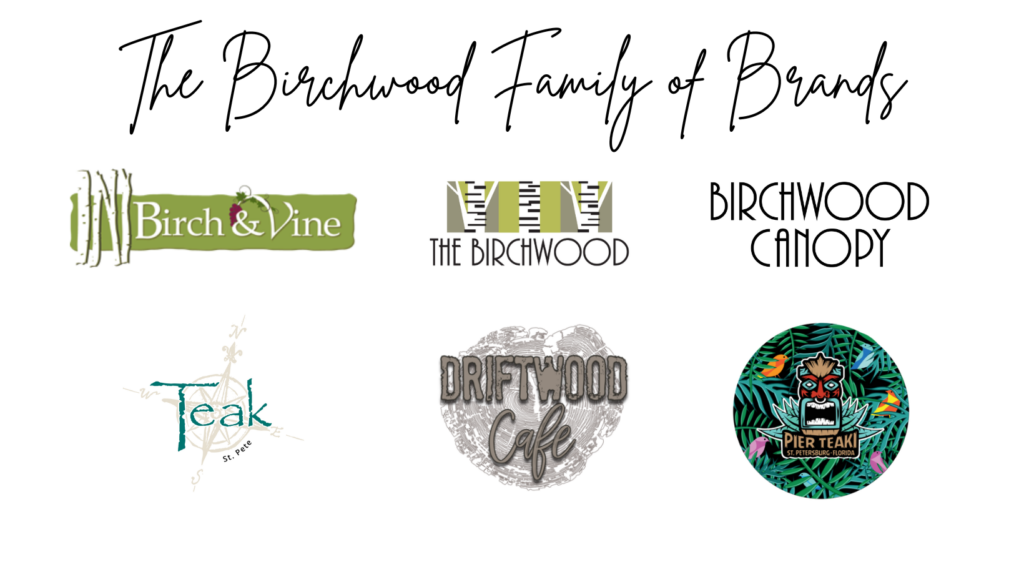 The Birchwood Inn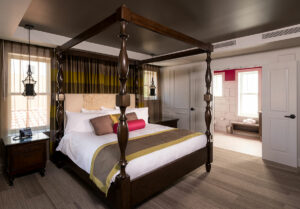 Our boutique hotel houses 18 stylishly decorated rooms just off the bay in St. Pete. The 1920's decor offers a modern twist on classic elegance, making your stay feel extra special.
Guests love the convenient downtown location, making it easy to enjoy the lively city filled with restaurants, art exhibits, sporting events, and nightlife! Originally constructed in 1924 as Lantern Lane Apartments, this Spanish Mission style underwent a renovation to keep the integrity of the apartments alive. 
Fun fact: Check out the Lantern Lane Lounge, the bar area of Birch & Vine. On the wall you can see an array of crystal door knobs that once belonged to the original Lantern Lane doors. 
Birch & Vine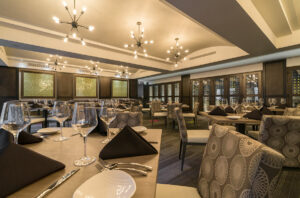 Featuring one of the most unique chef-driven menus in Downtown St. Pete, Birch & Vine is a romantic fine dining restaurant that showcases culinary excellence. 
Step into our cozy interior equipped with warm lighting, dark wood and our sommelier-curated wine wall. Whether you are sipping on a craft cocktail to complement your meal or enjoying our homemade desserts such as the Classic Three Layer Chocolate Cake, we know your experience will be memorable.
Join us for weekly specials like Happy Hour, Tasting Tuesdays or Brunch Bubbles at The Birch!
Birchwood Canopy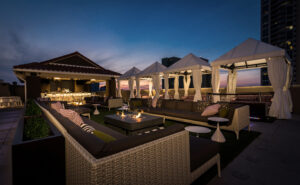 If you love rooftop lounging, then you must visit the award-winning Birchwood Canopy, where guests come for the views and stay for the drinks. Sip on craft cocktails, snack on delicious bar bites and celebrate at the cabanas.
Birchwood Canopy hosts weekly events like Ladies Night on Wednesdays, brunch on the weekends and live DJs. Planning for a special occasion? Reserve a cabana for birthdays, anniversaries, bachelor parties or just because. 
Birchwood Family of Brands St. Pete Pier Locations: 
Perched at the end of the magnificent St. Pete Pier are Teak, Pier Teaki and Driftwood Cafe. Surrounded by waterfront views, these properties draw thousands of tourists and residents visiting the St. Pete Pier. Visitors marvel at breathtaking rooftop views, enjoy an excitedly flavorful dining experience, and love the delicious treats at the cozy cafe.
Teak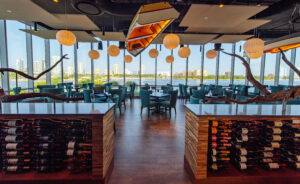 Some of Tampa Bay's top chefs designed the nautical-inspired menu of Teak, a modern seafood-forward restaurant with a down-south flair. 
Guests enjoy hand-crafted cocktails like the Pelican Paloma, fresh seafood delights like Mandarin Citrus Grouper, and mouth watering dessert such as the Killer Key Lime Pie.
Did we mention the breathtaking waterfront views? Sit back and relax – you're on Teak Time. 
Pier Teaki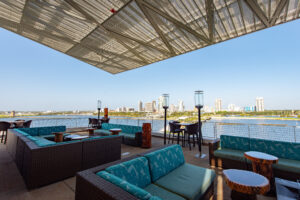 If Teaki bars are your thing, you must visit Pier Teaki. Perched high above Tampa Bay on the St. Pete Pier,  Pier Teaki features tropical drinks, party-perfect Teaki Huts, and panoramic views of the downtown skyline.
Enter vacation mode as you sit back on one of the lounge couches and sip a refreshing drink and enjoy bar bites. 
Our Teaki Huts are perfect for special occasions like birthdays, bachelorette parties, and more. Contact our team here if you are interested in hosting an event!
Driftwood Cafe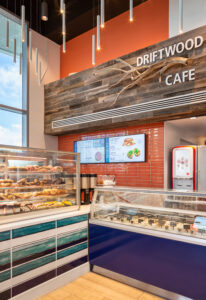 Our grab-and-go restaurant Driftwood Cafe offers visitors a fresh and affordable menu, perfect for a quick pick-me-up. Driftwood Cafe is the premier destination for treats like handmade ice-cream, seasonal coffee creations, and artisan sandwiches. 
We also have a special treat for you and your furry friend! Driftwood Cafe now serves doggie treats thanks to a special partnership with Three Dog Bakery and ice cream for pups made fresh in-house. 
We look forward to seeing you at the Birchwood Family of Brands!