Here at The Birchwood, we are thrilled to announce our new food menu items at our rooftop, Birchwood Canopy. These culinary delights will captivate your senses and take your taste buds on an unforgettable ride.
From zesty nachos that boast a symphony of flavors to mouthwatering sliders that redefine the art of finger food, and from crispy croquettes to the intriguing Nordic Meatballs and delightful Sweet Potato Tots – our new food menu is a symphony of tastes and textures that promises to make your rooftop dining experience truly exceptional.
Read below to learn more about a few of our favorites. Enjoy!

The Sunshine City Nachos will leave you wanting more.
Sunshine City Nachos
Indulge in a fiesta of flavors with our Sunshine City Nachos. These nachos are not your run-of-the-mill order. They are piled with crispy tortilla chips and stacked with smoky and tender Chipotle Chicken that'll have you saying "wow" with every bite. The pickled jalapeno & onion brings the heat and adds a kick that'll wake up your senses. The delicious mango salsa and the goodness of cheddar cheese spreads throughout the dish and a dollop of sour cream tops it all off.
Fritto Misto
Seafood lovers, this one's for you. Our all-new Fritto Misto is bursting with flavor. The fried calamari, shrimp, and white fish all feature a golden crunch that's hard to resist. These bites are served with a zesty twist – a squeeze of lemon that brightens up the ensemble and a creamy remoulade.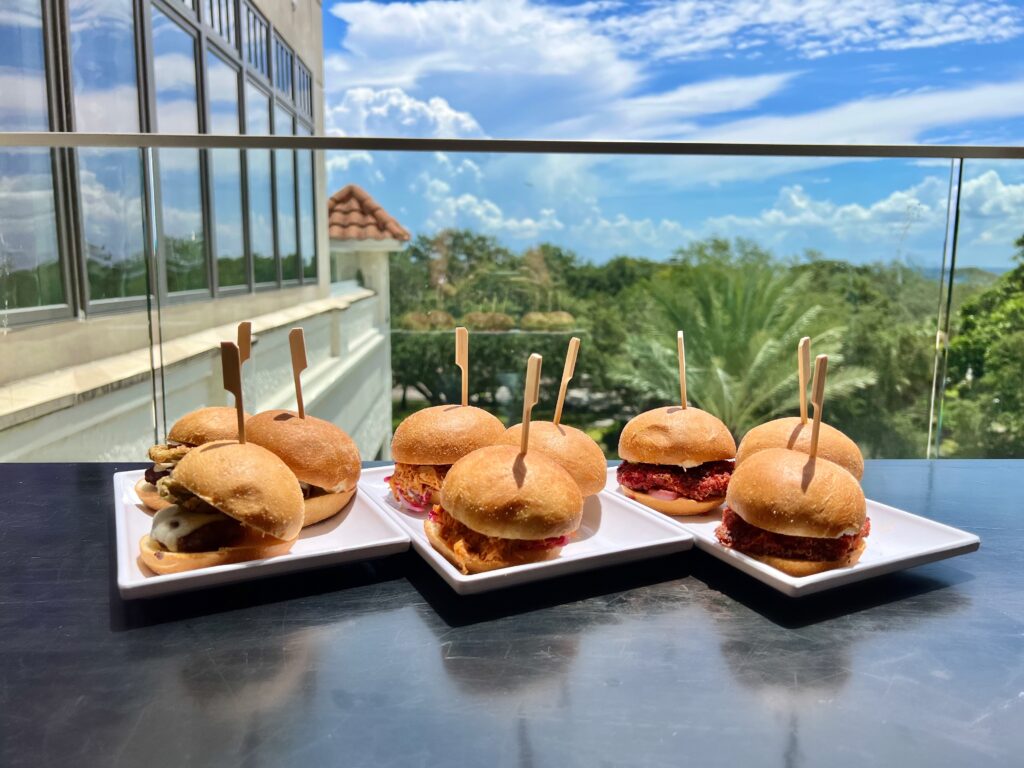 Take your pick of sliders: BBQ Chicken, Canopy Melt or Beet.
Sliders Three Ways
This trio of 3-pc sliders are set to steal the show. First up, we have the BBQ Chicken Sliders featuring tender and succulent smoked apple BBQ chicken thigh, perfectly nestled between soft buns and topped with a vibrant purple slaw that adds a zesty twist.
If you're craving something plant-based but equally delightful, the Beet Sliders are a must-try! These little gems boast a hearty quinoa beet patty, complemented by creamy avocado and tangy pickled onions, all cozied up in fluffy buns.
But wait, there's more! The Canopy Melt Sliders are a carnivore's dream, showcasing melt-in-your-mouth beef paired with nutty Swiss cheese, a fiery kick from fried jalapenos, and a creamy remoulade that ties it all together.
Sweet Potato Tots
Prepare your taste buds for a delightful twist on a classic comfort food – our brand-new Sweet Potato Tots! These bite-sized gems are here to take your snacking game to a whole new level. With a drizzle of whipped maple that adds a touch of sweetness, a sprinkle of smoked pecans for that nutty depth, and a scattering of pancetta lardons that bring a salty crunch, these tots are nothing short of extraordinary. And just when you thought it couldn't get any better, a dusting of powdered sugar takes this dish to a whole new level.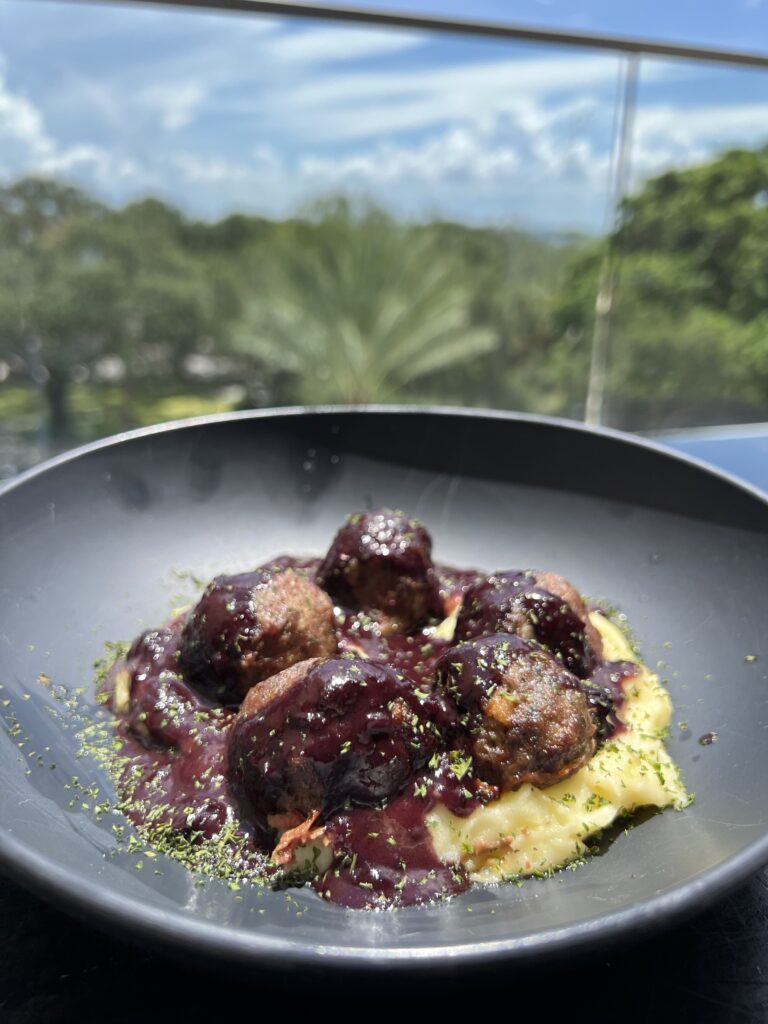 Meatballs and blueberry sauce are our new favorite duo.
Nordic Meatballs
House-made beef & pork Nordic Meatballs take center stage, tender and succulent, served over a bed of creamy garlic mashed potatoes that melt in your mouth. But what makes these meatballs truly special is the savory blueberry sauce that we've crafted to perfection. A delightful twist on tradition, this sauce balances the richness of the meat with a burst of tangy sweetness from the blueberries, leaving your taste buds dancing in delight. With each bite, you'll be transported to the enchanting Nordic landscapes, where the fusion of flavors comes together.
We can't wait for you to try our new food menu items at Birchwood Canopy. Whether you're a food enthusiast, a social butterfly, or someone simply seeking a memorable meal with a view, we invite you to join us.