Nestled in the heart of downtown St. Pete, Birch & Vine is more than just a restaurant; it's a culinary haven for foodies to savor extraordinary flavors and experiences. Whether you're a local looking for a midweek escape or a visitor seeking an unforgettable dining affair, Birch & Vine is here to delight your taste buds with a mix of can't-miss specials.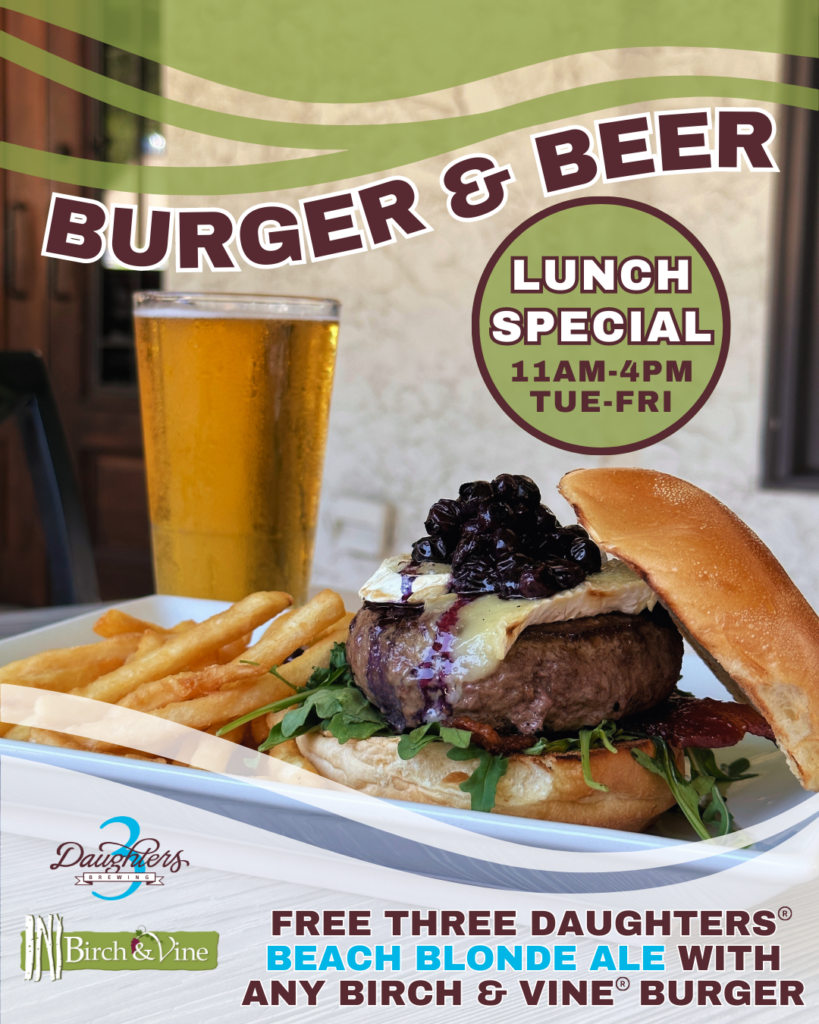 Burger & Beer Lunch Special: A Perfect Union of Flavor
The sun is high, and your appetite is calling – it's time for the Birch & Vine Burger & Beer Lunch Special! Picture this: Tuesday through Friday, from 11 AM to 4 PM, you can indulge in the ultimate lunch treat. When you order any Birch & Vine burger, you're not just getting a mouthwatering masterpiece; you're also receiving a complimentary 3 Daughters Brewing Beach Blonde Ale.
This partnership with 3 Daughters Brewing brings together and celebrates two local businesses. Pro tip: amplify your experience by ordering the Blueberry Compote burger (pictured), a unique creation that's as Instagram-worthy as it is delicious.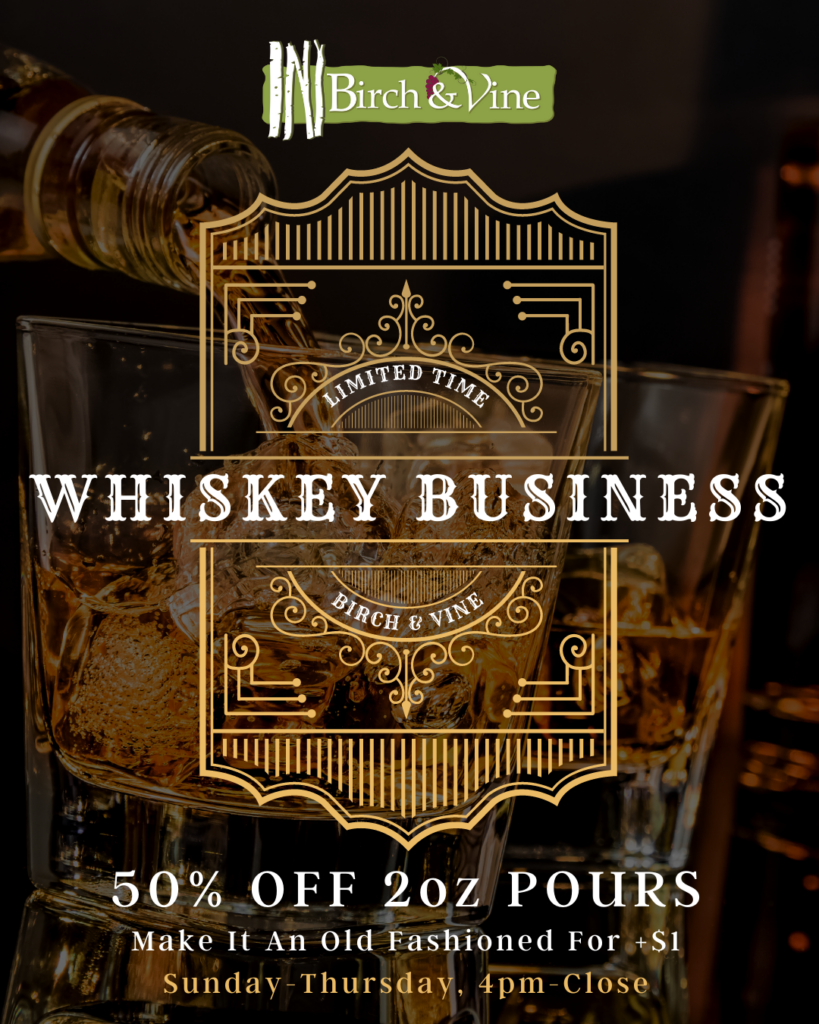 Whiskey Business: Raise Your Glass to Savings
If you're a whiskey enthusiast, Birch & Vine has a limited-time offer that will make your spirits soar. Introducing Whiskey Business: an irresistible deal where 2 oz pours of whiskey are yours with a stunning 50% off. Feeling a classic vibe? For just an extra dollar, transform your pour into an Old Fashioned, the timeless cocktail that defines sophistication.
Make your reservations for Sunday through Thursday, from 4 PM to closing, and let the whiskey adventure begin.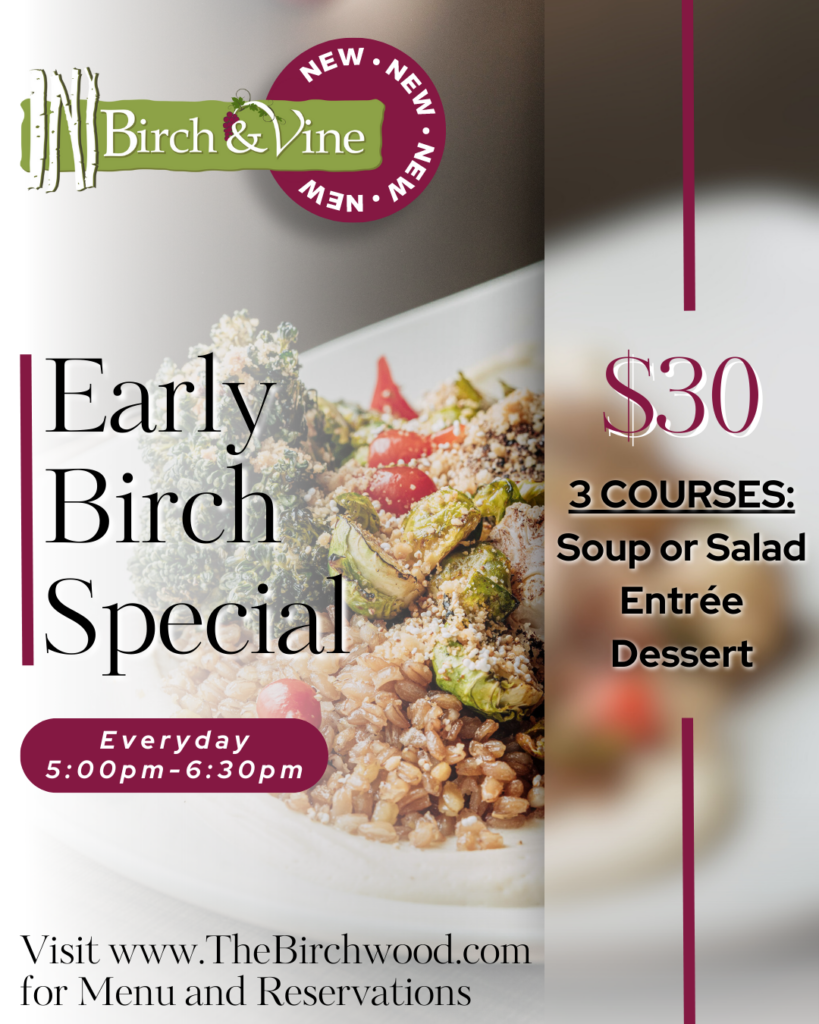 Early Birch Special: Indulge in Elegance
Looking for a remarkable early evening experience? Birch & Vine's Early Birch Special is your golden ticket. From 5 PM to 6:30 PM every day, you can relish a three-course extravaganza for just $30.
Begin with a choice of soup or salad, move on to an entrée that reads like poetry, and conclude with a dessert that dances on your taste buds. With options ranging from the succulent Ribeye Meatloaf to the artfully crafted Cruciferous dish, each bite is a celebration of flavors and textures. As for dessert, whether you're captivated by the allure of chocolate cake or the refreshment of daily sorbet, your palate will thank you.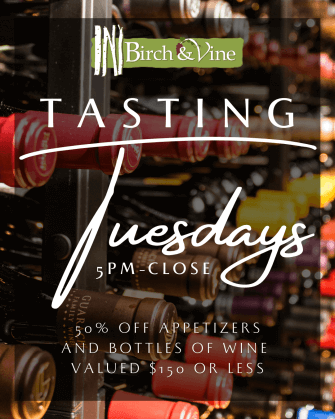 Tasting Tuesdays: Unveiling Flavors For Half The Cost
Embrace the joy of exploring appetizers and exquisite wines with Birch & Vine's Tasting Tuesdays. As the clock strikes 5 PM on Tuesday evenings, the magic begins. Revel in a splendid 50% off appetizers, setting the stage for a culinary journey like no other. Pair your appetizer experience with half off a bottle of wine valued at $150 or less, and watch as the evening unfolds into pure bliss.
From brunch, lunch, to dinner, Birch & Vine presents an irresistible range of culinary delights. Whether you're a seasoned foodie or an adventurer seeking new flavors, set your compass for Birch & Vine in downtown St. Pete, and prepare to be swept away on a journey unlike any other. Make your reservations today!