Foodies and lovers of sweets rejoice because a new dessert menu at Birch & Vine just dropped! Join us as we take a tour through this new flavor-packed menu and discover some of your new favorite St. Pete desserts!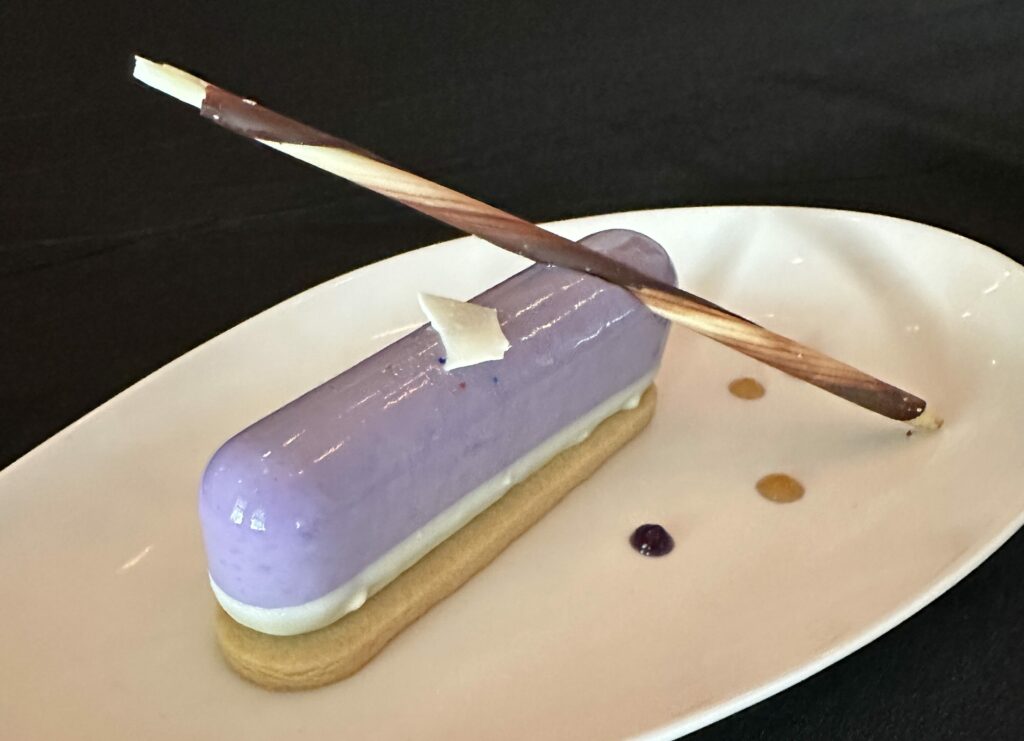 Coconut Ube Entremet
Prepare to embark on a culinary journey like no other, where the tropical notes of coconut and the rich allure of ube converge to create an unforgettable dessert experience with our delectable Coconut Ube Entremet.
This delightful dessert is a harmonious blend of taste and texture, featuring a luscious Brown Butter Coconut Cake at its core, enrobed in a velvety Coconut Ube Mousse that will transport your taste buds to new heights. The intricate combination of White Chocolate imparts a touch of sweetness, while the subtle hint of Espresso adds a captivating depth to each mouthful.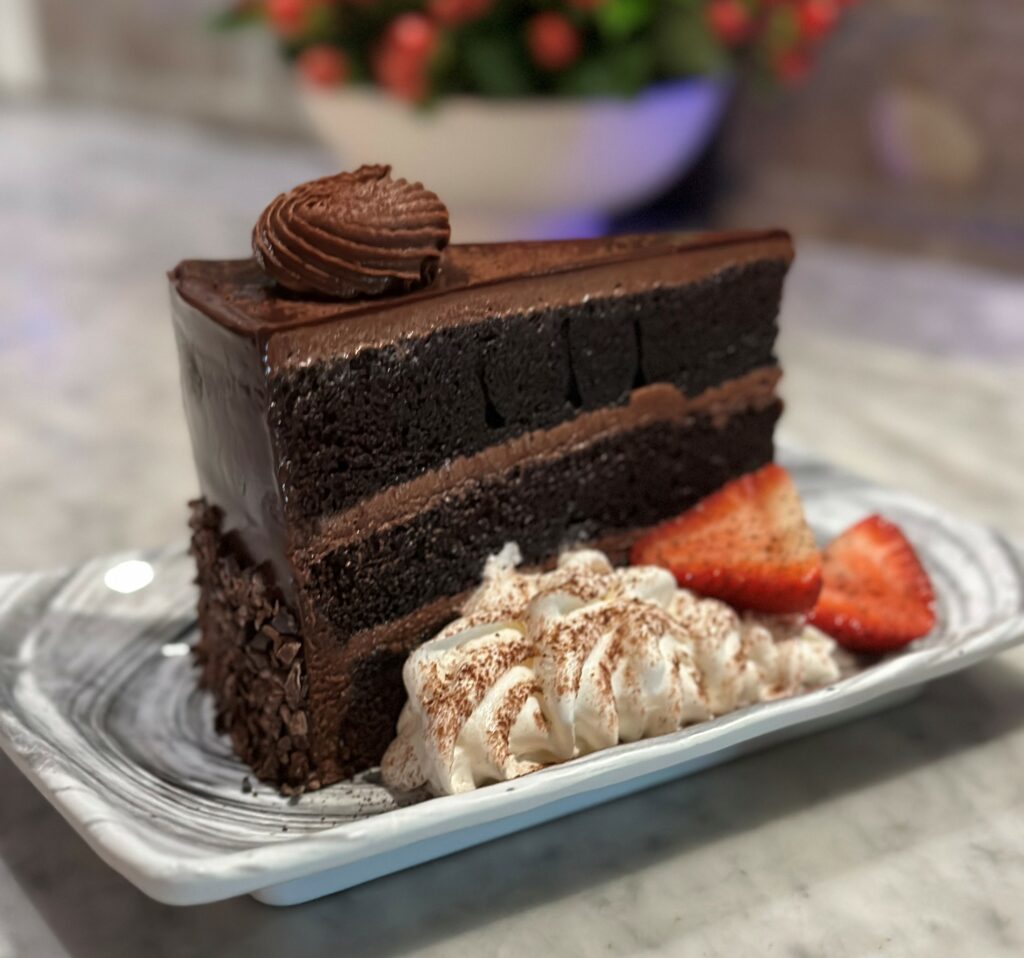 Classic Three Layer Chocolate Cake
Enjoy a timeless delight with our Classic Three Layer Chocolate Cake. This decadent creation begins with layers of flavorful mocha cake, infused with the perfect balance of coffee and chocolate. Each slice is coated in rich cocoa icing that adds a smooth and velvety touch, perfectly complementing the cake's richness.
As if that weren't enough, we crown this exquisite creation with a luxurious dark chocolate ganache. To complete this dreamlike indulgence, each slice is adorned with a dollop of delicately whipped Crème Chantilly, adding a light and airy contrast to the rich and sumptuous layers below.
Whether it's a special occasion or a simple craving for chocolatey bliss, this Classic Three Layer Chocolate Cake is the ultimate treat that will captivate your taste buds with every single bite.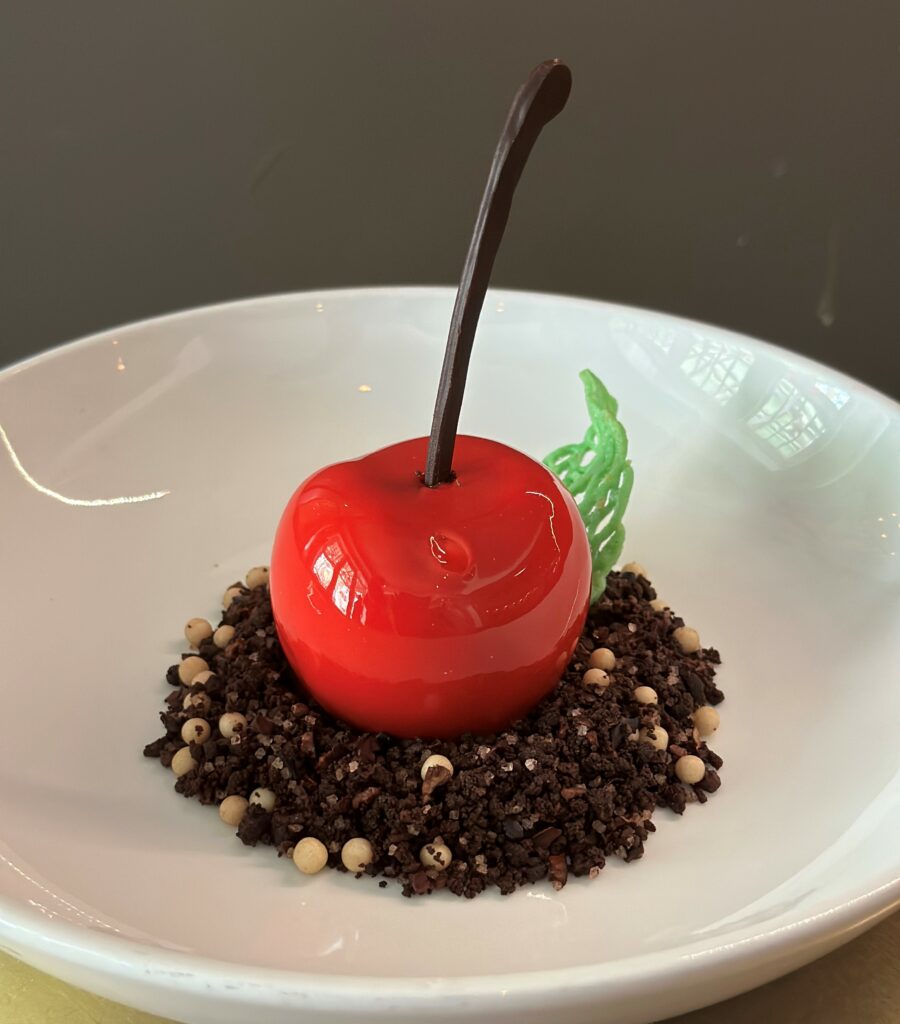 Cherry on Top
Savor a symphony of flavors with our exquisite dessert, the Cherry on Top. This divine creation starts with a honey mascarpone mousse, delicately sweetened with the finest honey. At the heart of this masterpiece lies the bleeding black currant & cherry cardamom compote, a burst of tangy and aromatic notes that dance on your palate with each spoonful. Finally, a sprinkling of chocolate soil provides a rich undertone, perfectly harmonizing with the fruity and creamy elements of the dish.
As the name suggests, the "Cherry on Top" is a true delight that will leave you with a sweet and satisfying finish to any meal.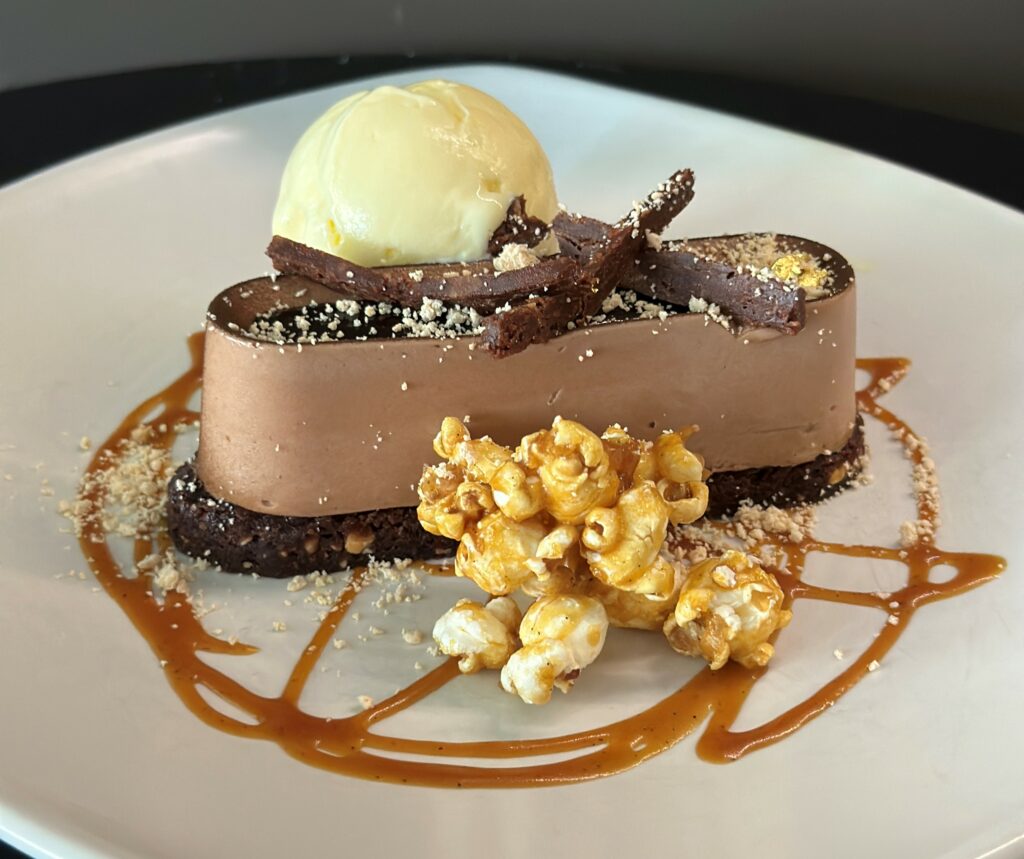 What if Peanut Butter Was Actually Chocolate?
Indulge in a playful twist on the classic flavors with our whimsical creation, What if Peanut Butter Was Actually Chocolate? This dessert is a delightful exploration of taste and imagination, featuring a rich peanut butter mousse placed on top of a house-made crunch bar. Complementing this luscious mousse is our innovative popcorn ice cream and salted caramel popcorn, adding a unique and delightful surprise. To complete this adventure, we sprinkle on a dusting of peanut butter powder.
What if Peanut Butter Was Actually Chocolate? is an imaginative and delectable creation that will leave your taste buds dancing with joy, making it a must-try dessert for any food enthusiast.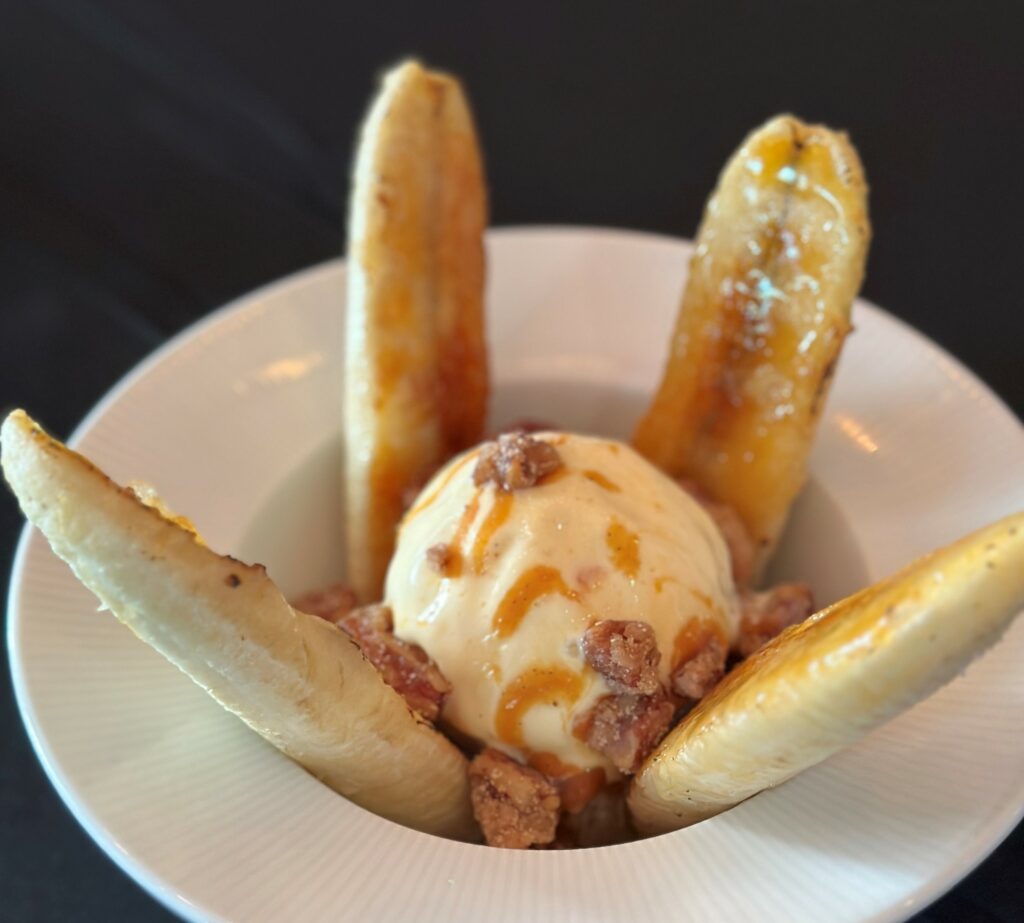 Birchwood Bananas Foster
Embark on a journey of pure indulgence with our Birchwood Bananas Foster. This exquisite creation combines the goodness of house-made vanilla frozen custard, a creamy delight that forms the perfect canvas for the flavors to unfold. Nestled in this decadent custard is a layer of moist and rich Banana Butter Cake, infusing each bite with a heavenly banana flavor.
The experience reaches new heights with the addition of brûléed bananas. The caramelized sweetness offers a delightful contrast to the creamy custard and cake. To crown this masterpiece, we garnish it with crunchy and delectable pecan pralines, offering a nutty twist that completes the ensemble of taste and texture.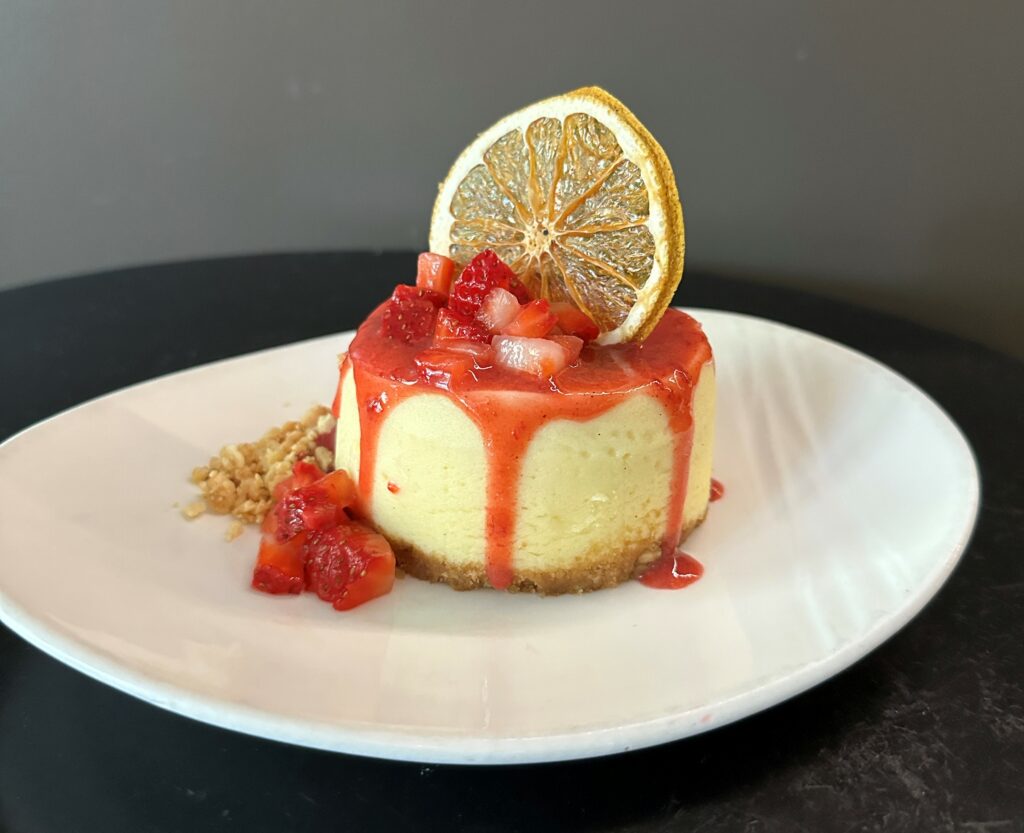 Guava Cheesecake
Treat your taste buds to a tropical delight with our irresistible Guava Cheesecake. This delightful dessert starts with a classic New York Style Cheesecake. The crust, made with browned butter macadamia, adds a nutty note and a perfect crunch to every bite. Elevating the experience further is the medley of vibrant toppings – the sweet essence of strawberry, the zesty freshness of orange, and the subtle spiciness of ginger all blended with the exotic allure of guava.
This Guava Cheesecake promises a delightful fusion of tropical and creamy goodness, making it an unforgettable treat for dessert enthusiasts seeking a unique and delightful experience.
Birch & Vine's new dessert menu boasts a tantalizing array of culinary delights that promise to take your taste buds on an unforgettable journey. Each menu item is a testament to the artistry of our chefs, and we invite you to immerse yourself in these culinary wonders. Reserve your table at Birch & Vine today!