On October 4, 2022, Birchwood Properties Executive Chef Lee Aquino will join several talented chefs on Team St. Pete in a thrilling competition for the Tampa Bay Food Fight. Team St. Pete will compete against Team Tampa in the ultimate battle for the Best of the Bay crown to raise money for Metropolitan Ministries. 
Read below to learn more about the impact of Metropolitan Ministries, Tampa Bay Food Fight and Chef Lee.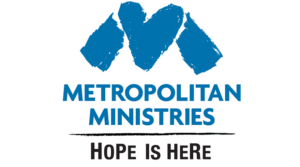 Tampa Bay Food Fight Supports Metropolitan Ministries
The Tampa Bay Food Fight brings together top chefs from Tampa and St. Petersburg for a fun competition that helps keep Metropolitan Ministries' culinary arts program in existence.
To understand the effect the Metropolitan Ministries program has on people's lives, you must hear their stories for yourself.
Regina, a domestic violence survivor and mother of two, fled her hometown after being assaulted in front of her children. Living in a tent with her kids on the streets of Tampa, Regina finally heard about Metropolitan Ministries. She received a safe shelter and a case manager to help her achieve her goals and joined the Uplift U program to further her education. Upon acceptance, Regina trained in the culinary arts program and now is a cook in the Tampa area. 
She said, "When I was younger, I told my mom I wanted to go to culinary school. But I never got the chance to go. Now, I'm back in my field, and it feels amazing."   
More than 300 individuals have completed the program, which is help made possible by Tampa Bay Food Fight.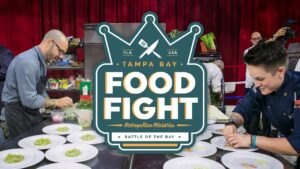 The Competition
This year's Tampa Bay Food Fight features seven amazing chefs from both Tampa and St. Pete dueling it out for the Best of the Bay crown.
There are four judges at this year's event, with accolades spanning from Gold Medalist at the World Culinary Arts Festival to semi-finalist for James Beard Foundation Best Chef South – the chefs will need to display their best to impress!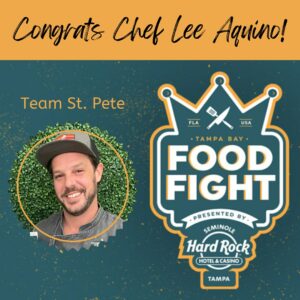 Meet Chef Lee Aquino
After graduating from St. Augustine's First Coast Technical College, the national hub for the American Culinary Federation, Chef Lee moved to Tampa and started as a chef for the Tampa Yacht Club. He later became head chef at The Birchwood and is now the Executive Chef of the Birchwood Properties, which includes The Birchwood, Birch & Vine, Birchwood Canopy, Teak, Pier Teaki and Driftwood Cafe.
Chef Lee explains his role in The Birchwood similar to that of Pat Riley, Team President of the Miami Heat. He says, "I'm a player in the game forever, coached a bit, and now I get to mentor people through these processes and their roles."
The Tampa Bay Food Fight is just around the corner! Get your tickets for this premier event and eat some delicious food, watch a thrilling competition and help people in need. Hope to see you there!